Message from Minister Maggie Yenoki on Respect – February 2017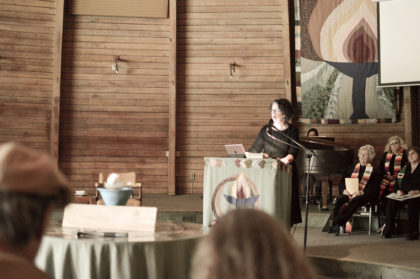 The 7 Unitarian Universalist principles that our congregations affirm and promote bring a sense of connection and purpose to the personal and shared lives of our members and friends. They form the framework for the work we do and guide our walk with others. We walk together, ever-mindful to step forward in right relationship while on the journey through these complicated days. Our monthly theme of "RESPECT" can be a helpful resource of meaning for us when it is seen through the lens of our principles.
Respect Inherent in UU Principles
We embrace the call and commitment to uphold our principles and in doing so, we are moved to insist on respect that stretches beyond all forms of religious tolerance. We hold the respect that doesn't only allow other beliefs, but honors the cultural and faith traditions of all we welcome into community here at SUUS, our spiritual home. Keeping that respect forefront in our relationships is essential in these days, when our highest elected office creates a spirit of fear, rejection, and criticism not unlike the days of the Inquisition.
In these days when our core beliefs seem contrary to the governing body of our nation, we hold them – and each other – ever more tightly as we live out the principles of our faith as a lighthouse in the storm.
May the beacon of our chalice flame bring you a sense of direction and connection to our community here at SUUS, and may the light you carry make our world a bit brighter. I know it does!
Blessings,
Pastor Maggie