Pastor AJ Blackwood
Minister
Department: Ministry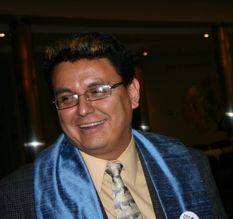 AJ ​Blackwood holds a Master of Divinity from Claremont School of Theology where he served on the Worship Council and was the administrator of the Center for Sexuality and Christian Life. Additionally, AJ holds a Bachelor of Art in Philosophy with a minor in Comparative Religions from the University of California, Irvine.
He has recently completed a dual-site internship where he served Neighborhood UU Church in Pasadena and UU Church of the Verdugo Hills.
He has strong skills in worship–working with multimedia and art to develop​ ​multi​-​sensory, spiritually vibrant worship experiences.​ ​He is an outside-t​he-box ​​thinker and program developer and a wonderfully attentive listener.
He has extensive ministerial experience working with LGBTQ, youth and young adult members of the ​community,​ ​doing outreach and social justice work. He has recently been intentionally working to expand his ministerial justice and outreach work in the areas of immigration and race relations.
Most importantly, he is looking forward to meeting, and spending time ​with ​us as we continue to grow, deepen, and manifest our beloved community here at​ ​Sepulveda Unitarian Universalist Society.​