Pastor AJ Blackwood
Minister
Department: Ministry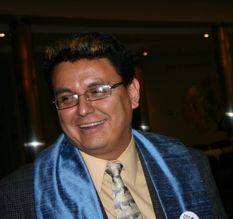 "Over this next year, I am looking forward to working toward a theme of "Mission, Vision and Reinvestment." 2018/2019 will be an exciting time! I am looking forward to serving you as a resource and guide as we continue working toward becoming more Mission and Vision centered as a community. I am looking forward to our work to the development of new long term programs and ministerial planning for the future – all of which will assist us in better serving our larger beloved community as a whole." – Pastor AJ
—–
Pastor AJ ​Blackwood is the consulting minister for the Sepulveda UU Society, a welcoming community of healing and growth, of love and belonging, and of joyful, spiritual and intellectual inspiration in the San Fernando Valley. His ministry has been dedicated to working with LGBTQ communities, youth and young adults though community outreach and social justice work. He is intentionally working to expand his ministerial justice and outreach work in the areas of immigration and race relations and is looking forward to doing this work with our SepulvedaUU.
He is a Southern California native and holds Master of Divinity from Claremont School of Theology where he served on the Worship Council and was the administrator of the Center for Sexuality and Christian Life. Additionally, Pastor AJ holds a Bachelor of Art in Philosophy with a minor in Comparative Religions from the University of California, Irvine. Most recently he served Neighborhood UU Church in Pasadena and UU Church of the Verdugo Hills in La Crescenta through a dual-site internship.
Pastor AJ has strong skills in worship — working with multimedia and art to develop​ ​multi​-​sensory, spiritually vibrant worship experiences.​ ​He is an outside-t​he-box ​​thinker and program developer.
He is looking currently leading "Reading with Pastor AJ" with a diverse group of the congregation exploring and reflecting on the history of white supremacy in the UUA through the writings of Rev Mark Morrison Reed in his book Black Pioneers in a White Denomination. He is looking forward to facilitating workshop series entitled "Constructive Theology and Creative Expressions" where participants will be asked to explore their person theology and express it by creating a work of art be shared with the community.
Most importantly, enjoying spending time ​with ​us as we continue to grow, deepen, and manifest our beloved community here at​ ​Sepulveda Unitarian Universalist Society.​