The Onion in the Valley
Located in Lost Hills since 1950, our building is both traditional and contemporary, and reflects our commitment to the inclusion of people of all ages, abilities, and mobilities. Learn about the accessibility of our building and programs.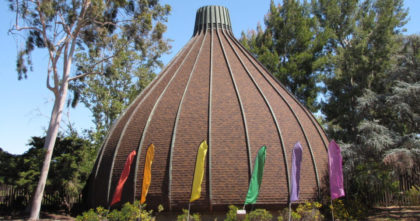 Office Hours
Monday and Wednesday 9:00 AM to 5:00 PM
Friday 8:30 AM  to 12:00 PM
Please call (818) 894-9251.
Entrances
Enter SepulvedaUU from the parking lot. Enter the sanctuary through the south door in the breezeway where you will be welcomed by one of our greeters. The administrative offices, conference rooms, religious education rooms, and restrooms are on the north side of the breezeway.
Parking
Our parking lot and bike rack has space for over 60 cars and 6 bicycles in our lot behind the sanctuary. Enter the lot on the south side of the property from the Haskell Street entrance.
Directions
Our Google Maps link offers you door-to-door directions for driving, walking, biking, or public transit.
Public Transit
Bus route 167 – "towards 167 – Chatsworth Station" has a stop just one-tenth of a mile away. The stop is called "Plummer / Haskell"