Rent Our Facilities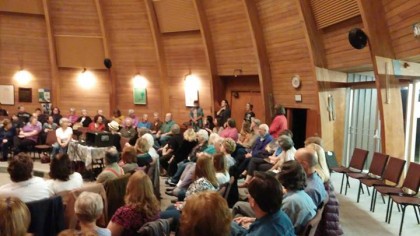 NO RENTALS AVAILABLE DUE TO CITY RESTRICTIONS ON GATHERINGS TO PROTECT THE COMMUNITY DUE TO THE CORONAVIRUS. SUUS facilities are available for large and small group gatherings, celebrations, and events. Whether you have a small group in need of a room for weekly or monthly meetings, or if you are interested in weddings or receptions, small conferences, a lecture hall, or a theatrical or concert venue, SUUS can accommodate your needs.
The Onion sanctuary can accommodate up to 200 indoor guests with a sizable outdoor lawn and picnic area. Designated a Historic-Cultural Monument by the Los Angeles Conservancy, its stunning interior sets a serene, yet inspiring atmosphere and is outfitted with a very capable sound system.
Our sanctuary is also available for short or long-term worship use. Please call (818) 894-9251 for availability and cost or write us below.