There is no single definition of community ministry – there are many. On this Sunday we will explore the multitude of definitions and varieties of this kind of ministry and the way it may be practiced by clergy and laity. Join us for this interactive service and try on a myriad of possible faces.
Rev. Betty is a community minister for social justice, affiliated with the Universalist Unitarian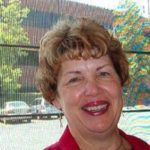 Church of Santa Paula after 17 years as a parish minister and over 50 years as a UU.
You may be asking: "What is a Humanist Forum Service?"
Our Humanist Forum is designed to welcome the secular humanist, activist, and socially concerned members of our community. In a world of heartbreak, dehumanization, and need for information, our community calls us to our better selves. During these services we will hear from community leaders with an objective to live with more wisdom, more connection, and more compassion for the world around us. It will be a time to deepen our faith through action.
Note: Children are invited to gather in the Ballou Room for childcare and religious exploration programs.
Topics: Service